[ad_1]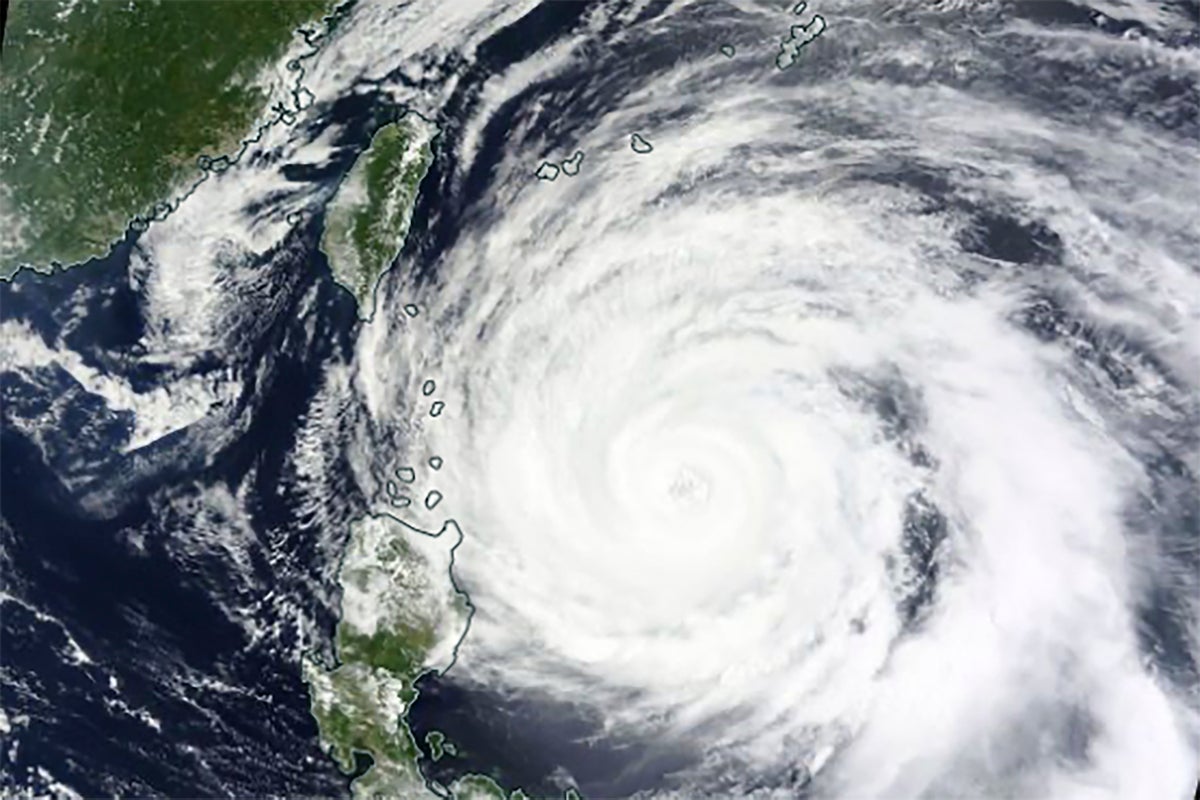 Guam emerges to find 'major mess' from Typhoon Mawar
Over 4,800 people have been evacuated, schools and offices were shut and flights halted in the Philippines as typhoon Mawar inches closer to the country.
Mawar, now known as Betty locally, is expected to move "generally northwestward" after inching close to the Philippines over the next two days, the state weather agency has said in its latest update.
The storm that remained a "super typhoon" for over 60 hours last week is expected to become "slow-moving or almost stationary" from tomorrow or Wednesday, the state weather bureau said in its 5pm local time update today.
Typhoon Mawar was last spotted 445km east of Calayan island at the northern part of the Philippines, prompting alerts for heavy rains and wind and evacuations.
The typhoon was moving at 10kmh towards the northwest, and is expected to avoid a direct landfall with the Southeast Asian nation.
It currently has maximum sustained winds of 155 kmh near the centre and gusts of up to 190 kmh, considerably down from its intensity last week.
Last week, Mawar wreaked havoc on the US territory of Guam, with harsh winds and heavy rains bringing flooding, widespread damage to property and power cuts.
1685365355
ICYMI: Mawar to 'steadily weaken' over next five days
Typhoon Mawar, now known as Betty locally, is forecast to "steadily weaken over the next five days", according to the latest update from Philippine Atmospheric, Geophysical and Astronomical Services Administration (PAGASA) today.
The storm, which maintained its intensity as a "super typhoon" for over 60 hours last week leaving scientists calling it a "beast", has now gradually started to weaken as it inches close to the Philippines.
A super typhoon is equivalent to a category 5 hurricane, while the current speed of the cyclone puts it in category 4.
The weather agency expects the cyclone to go further down in intensity as it encounters cooler waters northwards towards the sea of Japan.
Betty may be downgraded into a severe tropical storm late on Thursday or early Friday and into a tropical storm by the end of the week, the agency says.
Stuti Mishra29 May 2023 14:02
1685361600
'More than 500 FEMA personnel are supporting response and recovery efforts'
On Sunday, FEMA said in a press release that "crews continue to work to restore electricity and water service in the affected areas, with more than 65 per cent of Guam's substations being restored and more than 70 per cent of power restored in areas of Rota of the Northern Mariana Islands (CNMI). Feeding and bottled water operations continue as needed and requested by the territory and the commonwealth officials".
Gustaf Kilander29 May 2023 13:00
1685359857
Mawar can bring heavy rains and violent winds to Okinawa, Japan issues alert
Japan's southern coastal parts can experience rough seas, high tides, violent winds, and torrential rain as Typhoon Mawar approaches its prefecture of Okinawa, the Japan Meteorological Agency (JMA) has said in a new warning.
The typhoon, which is currently on a northward trajectory from the east of the Philippines, is projected to move closer to Taiwan and Japan in the coming days.
The Philippines state weather agency PAGASA forecasts the typhoon to begin to weaken as it moves and encounters colder waters. However, the slow speed of the typhoon is worrying experts with possibilities of the cyclone stagnating in the region for a while, impacting the weather in both Taiwan and Japan.
The powerful typhoon is expected to get closer to the Sakishima Islands, off the main island of Okinawa and 360 km from Taiwan, from Wednesday.
Despite getting weaker in the last couple of days, the typhoon is still packing winds of of 155 kmh near the centre and gusts of up to 190 kmh. It is moving at a speed of around 10 km per hour.
Heavy rain is expected to inundate both eastern and western Japan in the days ahead, as the front will stay for a long period of time, the JMA said.
Wave surges of up to five meters are anticipated on the main island of Okinawa, reaching as high as seven meters near the Sakishima Islands.
The agency has warned people to remain vigilant for landslides and flooding in low-lying areas. Additionally, it said there is a possibility of lightning strikes associated with the typhoon.
Stuti Mishra29 May 2023 12:30
1685358044
Schools and offices shut, flights halted and thousands evacuated in Philippines
Philippine officials have ordered evacuations of thousands of people living in the coastal areas, closed schools and offices, imposed a no-sail ban and dozens of flights are halted as Typhoon Mawar approaches the country's northern provinces.
The typhoon, which recently battered Guam, is projected to spare the mountainous region a direct hit but may still bring dangerous conditions including tidal surges, flash floods, and landslides, the state weather agency has warned.
Mawar will pass the Batanes province tomorrow or on Wednesday as it moves towards the island with a speed of 10kmh.
It currently has maximum sustained winds of 155 kmh near the centre and gusts of up to 190 kmh, considerably down from its intensity last week but still enough to unleash devastating impacts.
"Even if the sun is up, the weather is so unpredictable nowadays and could change anytime so we should always stay on the side of safety," assistant secretary Raffy Alejandro from the office of civil defence told The Associated Press.
"We're talking here of potential threats to lives."
Preparedness measures are in place, with troops, police, and volunteers ready for search and rescue operations. Evacuation efforts have already relocated over 4,800 people, and emergency shelters and food supplies have been prepared for contingencies.
As a typhoon-prone country situated on seismic faults, the Philippines faces numerous natural calamities each year.
"These typhoons, earthquakes and natural calamities have been a part of our lives," Batanes vice governor Ignacio Villa told the AP. "We cannot afford not to prepare because that would potentially mean the loss of lives and major damage."
Mr Villa said the local government lent ropes to villagers living in high-risk communities to strengthen their houses as the typhoon approached.
Stuti Mishra29 May 2023 12:00
1685356244
Typhoon Mawar now moving at 10kmh, PAGASA says in latest advisory
Typhoon Mawar, known in the Philippines as storm Betty, was last pinpointed 445km east of Calayan island at the northern part of the archipelago, the Philippine Atmospheric, Geophysical and Astronomical Services Administration (PAGASA) said in its 5pm local time update today.
The typhoon is now moving at a reduced speed of 10kmh toward northwest, with its projected path showing the cyclone will pass through the country but not make direct landfall.
It is expected that the typhoon will begin moving away from the Philippines, towards Taiwan and Southern China, in the next two days after inching closer. It is expected to stagnate in the region for a while and continue to lose its intensity by the end of the week.
Stuti Mishra29 May 2023 11:30
1685353558
Why does the Philippines change names of cyclones?
Typhoon Mawar, which wreaked havoc in Guam last week, is now being called "Betty" since it moved into the oceanic area monitored by the Philippines.
While the name change can be confusing for a lot of people, Mawar isn't the only cyclone to be renamed and known locally with a different name in the Philippines.
The Philippines, in fact, changes the names of all its typhoons once they enter the so-called Philippines Area of Responsibility (PAR), a large area of the Western North Pacific which includes most of the country's land territory, the main island of Palau, most of Taiwan, as well as parts of Malaysia and the Japanese prefecture of Okinawa.
From typhoon Odette, which was previously named typhoon Rai, to the Philippines' deadliest typhoon in modern history, typhoon Yolanda, which was previously called typhoon Haiyan, all these storms went through a change of name after crossing the line in the ocean.
Agencies such as the World Meteorological Organisation (WMO) name cyclones that occur in the Pacific to help in the quick identification of storms in warning messages.
However, since the PAR region is monitored by the Philippine Atmospheric, Geophysical and Astronomical Services Administration (PAGASA), it independently operates its own naming scheme for tropical cyclones that occur within the territory.
The state weather bureau assigns each Philippine typhoon name alphabetically to determine the number of typhoons that enter PAR every year. The Philippines is one of the most exposed countries in the world to tropical cyclones.
PAGASA also maintains a back-up list if all 25 names are used in a year.
Some of these names are also local Filipino names that help with quick recall of the storms that enter its monitored area.
Stuti Mishra29 May 2023 10:45
1685350800
FEMA provides update on Guam recovery efforts
Gustaf Kilander29 May 2023 10:00
1685348144
In Photos: Coastal regions evacuated and aid arrives as Philippines prepares for extreme weather
Stuti Mishra29 May 2023 09:15
1685345457
Preemptive evacuation underway in Philippines
Over a hundred people have been evacuated from the coastal areas of the Philippines as typhoon Mawar raises alerts for heavy rains and gusts of winds.
The authorities in the northern Cagayan Valley yesterday moved 38 families, or 113 individuals away as a pre-emptive evacuation, reported Rappler.
It comes as the state weather agency issued alerts for landslides, heavy rains and destructive winds for the next few days sparked by typhoon Mawar.
Stuti Mishra29 May 2023 08:30
1685343600
The identical twin weathermen protecting an island from a deadly 140mph typhoon
As Typhoon Mawar aimed its fury at Guam, residents facing terrifying winds and crashing waves from the strongest typhoon to hit the US Pacific territory in decades had identical twin meteorologists to keep them informed — and to provide the outside world with a glimpse of the chaos unfolding on the remote island.
The National Weather Service's Guam office employs Landon Aydlett as its warning coordination meteorologist. His brother Brandon Aydlett is the science and operations officer.
Together, the 41-year-olds tag-teamed Facebook Live broadcasts watched by thousands as Typhoon Mawar approached with maximum sustained winds of 140 mph (225 kph), wreaking havoc as residents lost power, internet and water service.
Their colorful descriptions of the Category 4 storm painted a picture as they both took turns describing trees snapped like toothpicks, thrashing winds, nearly 2 feet (0.6 meters) of torrential rain and "whiteout conditions" outside the office where they holed up with other colleagues for nearly 48 hours.
Read more:
Audrey McAvoy29 May 2023 08:00
[ad_2]

Source link