[ad_1]

A lifetime of beef in just the first hour of "The Real Housewives of New Jersey" reunion as Teresa Giudice and Melissa Gorga go back and forth on everything from Teresa's wedding to prison and more, with both declaring they "want to be done" with one another after this.
If you thought Bravo had only one explosive series of reunion episodes going right now (ahem, "Scandoval), you might want to hold on to your designer clutch because the family feud on "The Real Housewives of New Jersey" is reaching all new highs — or is that lows?
The first part of the "RHONJ" reunion saw sisters-in-law Teresa Giudice and Melissa Gorga going at it harder than ever after the toughest season they've endured yet. The season ended with Melissa and Teresa's brother Joe Gorga skipping her wedding to Luis Ruelas. But the drama didn't stop there.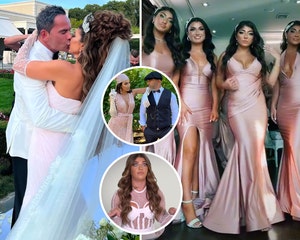 Bravo
How Joe & Melissa Gorga's Absence Nearly Derailed Teresa Giudice's Wedding Day

View Story
When asked, Teresa told host Andy Cohen that her whole goal in coming into the same room again with Melissa for the first time since her nuptials is for a certain kind of final closure. "I want to close the chapter and move forward," she said. "I wish her well, and peace, but I want to close that chapter."
"I think there's a lot of truth that needs to come out today," Melissa said, before echoing Teresa's sentiment that this be the end of their relationship. "I agree with closing in peace."
Later, after the two went at it for a little (a lot) while, Teresa snapped that Melissa would soon be "leaving" the show and she couldn't wait. Andy asked if Teresa would be done with Melissa if the latter did leave the show, and Teresa said, "Definitely. She's going to be out of my life after tonight."
In other words, that peace doesn't look like it's going to come easy, if at all. Especially, as it appeared in this first part, if they can't even get their stories straight. On more than one occasion, Teresa appeared to be caught either lying or completely misremembering events — seemingly casting herself in more of a victim role.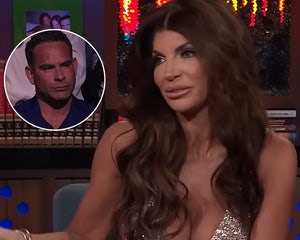 Bravo
Teresa Giudice Grilled on Louie's RHONJ Behavior, Private Investigator Claim on WWHL

View Story
As an example, she claimed that Melissa and Joe never invited her out to dinner with them when she was single (between Joe Giudice and Luis Ruelas). Melissa not only disagreed with her, but so did the photographic evidence she brought that production was more than happy to share. Teresa's response was to say she must have invited herself because they never invited her anywhere.
This came after Melissa called her out for Teresa not inviting Melissa's mom to her wedding. According to Melissa, Teresa only has time for Melissa's family when it's convenient for her, like when she "needed" a family to introduce Luis to in the first place.
The pair got into another she-said/she-said dispute over Luis himself, after Teresa claimed her husband didn't want to be on the show. She claimed it was Joe who forced the issue because they're "all about the show."
Melissa, though, argued that it was Luis "begging" to be part of "The Real Housewives Ultimate Girls' Trip" back in 2021. She said Luis called Joe and suggested they crash the vacation so they could "be on TV."
The reality star hit a little deeper, too, further claiming that Luis was a "Housewives" groupie, of sorts, when she alleged that prior to dating Melissa, he'd tried to date "Real Housewives of Miami" star Alexia Echevarria. "You're a liar!" Teresa retorted.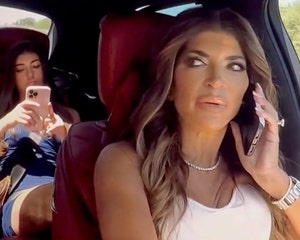 Bravo
Teresa Giudice Tries to Stop Luis from Dissing Melissa and Joe on RHONJ: 'The Cameras Are On'

View Story
Teresa's time in prison came up in a couple of major ways, with one being Teresa's claim that her brother only came to visit her once while she was behind bars. To this, Melissa said that he wasn't able to because Teresa didn't add him to her visitors list until she needed him to film for the "Teresa Checks In" special. Teresa, no surprise. said she was lying.
Melissa and Joe had recently claimed that it was only their agreement to be part of that special, Teresa's family would have had no income while she was incarcerated, so they basically kept her kids fed by helping her out with that special.
Eventually, it got so petty it was hard to know who to cringe over more. "Your whole storyline was me!" Teresa shouted. "Your whole storyline is talking about your brother in every scene," Melissa shot back. "You should thank us for getting on the show." Is it possible they're both right?
The second prison claim was even more explosive, as Teresa said that Jacqueline Laurita told her that Melissa and Joe were hanging out with and chatting with Joe Guidice's ex business partner. She further alleges this partner didn't go to jail "because he outed me."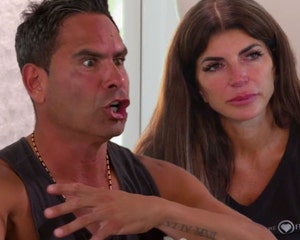 Bravo
Luis Surprises Teresa with Explosive Rant Against 'Devilishly Calculated' Joe Gorga

View Story
"I didn't even know Joe Giudice's ex-parter," Melissa responded. "This is like [you saying] Caroline Manzo put you in jail."
"I take that back," said Teresa. "I think you did!"
At another point, Andy noted that the Gorgas weren't the only ones who skipped out on the nuptials. But when he asked Teresa about "RHONJ" alum Dina Manzo opting out of the proceedings entirely, including being a bridesmaid, Teresa had to scramble a bit to make this absence okay.
At first, she said it was because Dina just didn't want to be on camera anymore, but Andy shut that down pretty quickly by noting that all she'd have had to do was not sign the release and she wouldn't have been on camera. So Teresa changed her answer to say she "didn't want people knowing she was coming here."
Teresa said that while she didn't like Dina waiting so long, it was all good. So Andy pushed a little further, noting the former pals didn't seem to post pics together as they used to during their travels.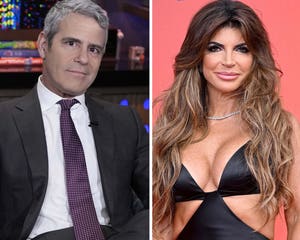 Getty
Andy Cohen Lost His 'S—' on Teresa Giudice During RHONJ Reunion

View Story
To this, Teresa said the women are fine, and then jumped ahead of him (if that's where he was going), but emphasizing that Luis and David Cantin "never had any business dealing at all."
That was a rumor from Joe, who'd claimed David told him that Dina and Teresa fell out over a business dispute between the guys. When Andy asked Melissa about it, she said that Joe regretted bringing it up on camera.
The women seemed inclined to rehash more than a decade of "Housewives" beef in just this first hour, with even the topic of how Melissa and Joe came to be part of the show coming up. After Jennifer Aydin asked if Melissa had called Andy about being on the show in the first place, as Teresa claimed on "RHUGT" Season 1, he said no.
Instead, he said it was his idea to have them join because he thought Melissa was cute, Joe funny and he loved that they had a matching "double staircase" to Teresa and Joe Giudice. It's such an oddly specific detail, we're inclined to believe it has to be true — and with this reunion, finding the truth is harder than we ever imagined possible.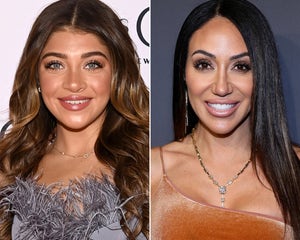 Getty
Gia Giudice Says Her Aunt Melissa Gorga Has Completely Blocked Her on Social Media

View Story
When Andy brought up the whole concept of "forgive and forget," which he has to realize would be detrimental to the drama that makes these shows what they are, Teresa quickly jumped right in to say that's what she's all about. You know, that's why we're still rehashing how Melissa came to join the show way back in Season 3.
"You forgive and forget?" Melissa asked incredulously. "Oh dear god, we're at delusional's highest level."
Hilariously, while the ongoing feud between the sisters-in-law dominated the reunion, as it tends to dominate the show, the repetitive nature of it was clearly starting to get to the other ladies. At one point, Dolores Catania quietly told Danielle Cabral, "This story is so old."
While it's an old story, the vitriol between the women has never reached this level. Like the aforementioned "Vanderpump Rules" drama, this appears to have reached a level at which there is uncertainty as to how the show moves forward now.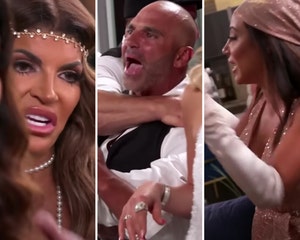 Bravo
Cheating Rumors Spark Massive Teresa and Melissa Blowout Days Before Wedding on RHONJ Finale

View Story
Andy Cohen agrees, saying that the show is "at a crossroads," per ET's exclusive clip from SiriusXM's "Let's Talk Off Camera" podcast with Kelly RIpa. As both Teresa and Melissa are "really popular," he told Ripa that "there are several options."
"I think they're both walking around with the institutional knowledge that they both have and the institutional hurt feelings, especially Teresa," Andy said, noting that Teresa said at the last reunion she was still hurt over Melissa not changing her wedding date because Teresa was pregnant and a bridesmaid, "so now this is going back for 15 years."
You know, "forgive and forget."
Andy further argued that both women are right, to an extent, so it's not easy to jump one one side or the other when it comes to this family feud. While he didn't detail those options, the most likely would be a spinoff for one or both women, keeping them on the air but separate from one another.
In the meantime, the current drama will pick up after Teresa's bombshell (and cliffhanger) allegation that she believes Melissa and Joe got her sent to prison when "The Real Housewives of New Jersey" reunion special continues next Tuesday at 8 p.m. ET on Bravo.
[ad_2]

Source link