[ad_1]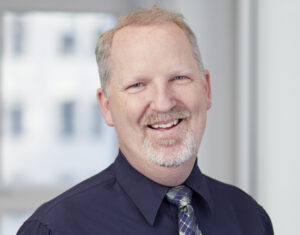 In this series, Healthcare Design asks leading healthcare design professionals, firms, and owners to tell us what has their attention and share ideas on the subject.
Kevin Hinrichs is the president of Taylor Design, an architecture, planning, interior design, and design strategy firm with five California offices. Here, he shares his thoughts on caring for healthcare workers, supply chain disruptions, and designing for disaster.
Caring for healthcare staff
Even before COVID, prioritizing space for healthcare staff was a battleground for negotiation. Caregivers never ask for special treatment because that's just who they are. As a result, healthcare staff historically have received leftover space, such as windowless breakrooms in the pits of the facility. But the constant and intense pressure that caregivers face requires a place of respite. This grew more obvious during COVID, not only because there were so many sick and dying patients, but because family and friends couldn't help ease the burden. Though healthcare planning constantly struggles to prioritize space for staff in the context of overall facility cost, owners are now more aware of the need to provide sufficient and suitable space for caregivers, including outdoor spaces exclusive to staff.
Moneyball and healthcare
Healthcare leaders want relevant statistical information to guide their facility design and operations decisions, and this is creating a surge of data in our industry. Interpreting this data is a complex value proposition. It reminds me of the film "Moneyball," which tells the story of how data disrupted the entire baseball industry. Healthcare leaders still need to know what to look at and how to interpret it, but they're eager to use the available data on factors such as demographics, patient treatment flows, and spatial needs to optimize the limited number of resources and space they have. This saves time and money, while also delivering a better experience for patients, visitors, and staff. For example, a healthcare system saved more than $25 million by consolidating space for catheterization labs, pre-operative bays, and post-anesthesia care units after consulting demand-time data.
Supply chain disruptions
The worldwide supply chain crisis has affected healthcare design—as it has other construction markets—because we can no longer reliably procure or accurately predict the delivery of materials and equipment critical to facility completion. We've had materials fail to arrive when expected, leaving the subcontractors we scheduled unable to complete their work. Then, when the materials finally did come in, subcontractors were unavailable. Because of the ripple effect that a supply chain disruption can cause to the design schedule, project teams must pay more attention upfront to what is likely and not likely to be available for procurement. This means doing parallel designs, as well as using varied materials and construction processes to build flexibility into the process. Decisions on what to specify and how to construct the project need to happen much further in advance to allow time for designers to properly coordinate with other disciplines.
Designing for resiliency
We are based in California, so between wildfires, earthquakes, and floods, we're familiar with the concept of designing resiliency into our healthcare facilities. Then came COVID and we saw our hospitals and healthcare clinics completely change how they function to accommodate this new threat. In light of this, one of our senior associates is working with the California Department of Healthcare Access and Information (HCAI) to develop an emergency design guide to help healthcare networks build resiliency and flexibility into their emergency departments. The goal is to encourage design that helps healthcare systems respond better to disasters by creating adaptable facilities that allow them to flip a switch and function very differently in a crisis. For example, designing enough flexibility into treatment rooms to enable them to accommodate burn victims quickly and efficiently in the event of a massive fire casualty event. (For more on COVID-19's impact on healthcare design go here.)
Diverse design input
In our approach to healthcare facility design, we value diversity in the term's broadest sense. Diverse technical experience from team members who have worked in a different industry or country offers us a wealth of alternatives when addressing a unique design challenge. Diverse specialty advisors, including those representing health sciences, facility planning, healthcare management, and medical operations, are brought into our team to address all aspects of a facility's function and purpose. Diverse stakeholders, including patients, family, and healthcare providers, offer input on the design process and ultimately the design outcome. Collecting these diverse viewpoints, then synthesizing and implementing the best ideas, helps us improve efficiency, which can decrease building size, reduce cost, and limit waste.
Want to share your Top 5? Contact Managing Editor Tracey Walker at tracey.walker@emeraldx.com for submission instructions.
[ad_2]

Source link