[ad_1]

"It's not something that I'm proud of," says Jill, who opens up about feeling "obligated" to do the interview — which minimized the allegations against him — in a new "Duggar Family Secrets" documentary.
In Prime Video's new "Shiny Happy People: Duggar Family Secrets" documentary, Jill Duggar opens up about her brother Josh's molestation scandal and financial battles with her father Jim Bob over the family's TLC show.
Premiering Friday on the streamer, the four-part series delves into the "19 Kids and Counting" phenomenon, as well as Jim Bob and Michelle Duggar's controversial religion, The Institute in Basic Life Principles — with Jill, her husband Derrick Dillard and cousin Amy all going on the record with their alleged experiences unlike ever before.
In 2015, it was reported Josh had molested five girls — including four of his sisters and a family friend — when he was a teenager, from 2002-2003, before their show premiered. Though he was sent away for counseling, his past was then thrust into the spotlight years after the family had dealt with it privately, in part thanks to their television notoriety.
In one of the earlier episodes, Jill — one of the sisters who was molested — was asked what she remembered about the time when he was sent to counseling. "I kind of don't really want to talk about all that," she said, getting emotional as her husband said they both wished "nobody had ever found out about any of that."
"There were certain things she shared with me in confidence, because we were a married couple, that with all of our hopes would remain confident between us until we both died and nobody found out about it," he added. "This is something that's heavily guarded."
"Nobody should have ever known about it, so I don't like to talk about it," she added.
After the reports came out, both Jill and her sister Jessa appeared on Megyn Kelly's "The Kelly File" and appeared to minimize the allegations against their brother. Jessa said "the extent of it was mild," saying the behavior was "inappropriate touching on fully clothed victims, most of it while girls were sleeping." She also defended him against claims he was a "child molester or a pedophile or a rapist." Jill, meanwhile, said she chose to "forgive" her brother and praised her parents for how they handled the situation.
On the Prime Video doc, however, Jill claimed the Kelly interview was the family's attempt "to get to where TLC would be cool moving forward with this show" following the bombshell report.
"In hindsight, I wouldn't have done the Megyn Kelly stuff. I felt like I was in a place again of like bearing the burden and the weight of just … even though you volunteer, it's like you feel obligated to help," she said, dabbing tears from her eyes as she spoke.
"The Megyn Kelly thing, I don't even like to talk about it because it's not something that I'm proud of," she continued. "If I hadn't felt obligated to 1, do it for the sake of the show and 2, do it for the sake of my parents, I wouldn't have done it."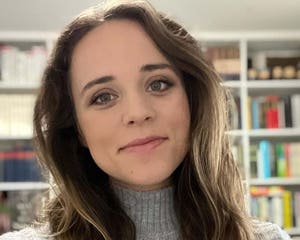 Instagram
Jinger Duggar Says Brother Josh Duggar Needs 'New Heart' After Child Pornography Conviction

View Story
Derrick, meanwhile, said it wouldn't classify her appearance on Kelly's show as "voluntary."
"Basically, being called on to carry out a suicide mission," he added. "You're gonna destroy yourself, but we need you to take the fall so that we can carry the show forward because the show cannot fail and they were going to do whatever they could to get the return on their investment. If that meant collateral damage, that meant collateral damage."
Jill said the interview "didn't save everything" and "wasn't enough," as "19 Kids & Counting" was canceled by TLC. The network, however, went on to green light another series with the family — "Counting On," focusing on Jill and Jessa — that didn't include Josh.
"Yes, we were taken advantage of," Jill said of doing the new show. "The day before we got married I signed a contract … we were literally running through the kitchen. I didn't know what it was for."
"What we found out later that it was a commitment of your life for the next 5 years," added Derrick.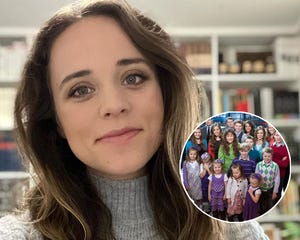 Instagram / Getty
Jinger Duggar Speaks Out Against Family's 'Cult-Like' Religious Beliefs

View Story
The two said they were adamant against having TLC cameras film the birth of the couple's first child, with Jill saying she didn't want anybody in the delivery room. In a compromise that the pair clearly still see as a loss, they were given handheld cameras to film the delivery themselves.
"They gave us cameras, like, you guys shoot. We did diary cams, we did a lot of work. So they still got the footage," said Jill, who also claimed TLC wouldn't pay for out-of-pocket health insurance costs for the delivery since they had already paid her father for their participation in the show.
"I never received any payout, no cash, no check, nothing. For 7.5 years of my adult life, I was never paid," said Jill.
She claimed they also pushed back against filming at one point, only to have her father send them "the signature page and the obligation page" of the contract she had signed just before the wedding. She, at first, thought someone had forged her signature … until she realized what she had actually signed that day. "I'm freaking out, now we're aware of this contract … are they gonna arrest us if we're violating something?" she said she thought to herself.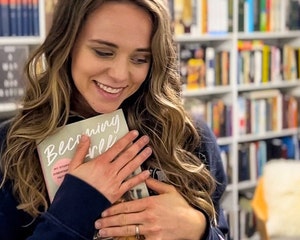 Instagram
Jinger Duggar Speaks Out on Brother Josh, Birth Control & Breaking Free from Family's Religion

View Story
According to Derrick, Jim Bob then offered to pay them $10 an hour for filming, before offering some of the older kids a lump sum for their participation. "In order to receive that, you had to sign another deal with my dad, his production company, Mad Family Inc." added Jill, "It would be like forever."
"We were automatically like, 'We're done,'" she recalled. "Eventually you start making your own decisions and it's piece by piece, little by little to do what you need to to survive."
Over time, Jill and Derrick distanced themselves a bit from the rest of the family — though Jessa shared a photo of her, Jill, her sisters and mom Michelle together on a rare occasion (story below).
In their only statement to Prime Video regarding the docuseries, Jim Bob and Michelle simply said that they "love each of their children tremendously and always desire each live their God-designed lives to the fullest"
"Shiny Happy People: Duggar Family Secrets" premieres Friday on Prime Video.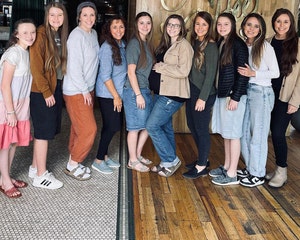 Instagram
Why Everyone's Freaking Out Over This Photo of the Duggar Women

View Story
[ad_2]

Source link