[ad_1]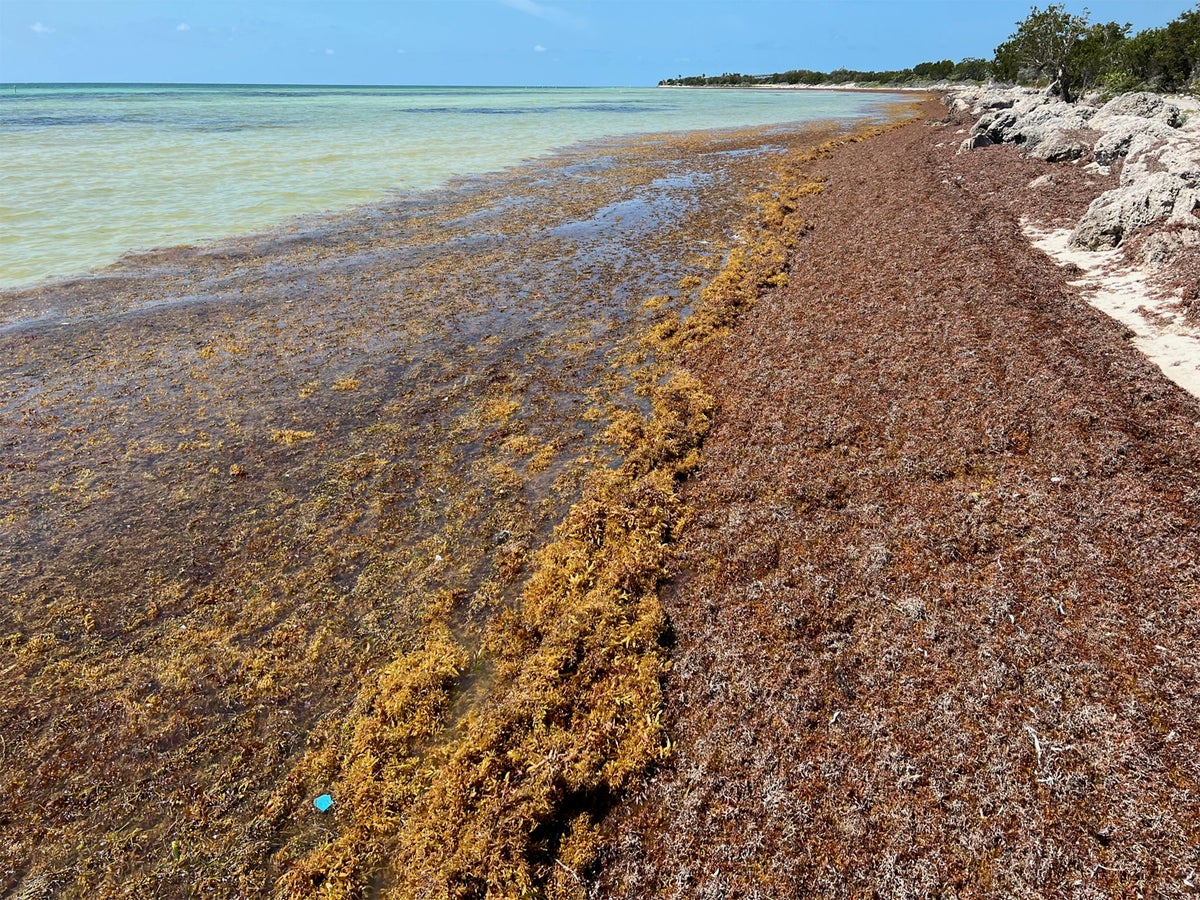 Clusters of brown Sargassum seaweed believed to be infested by flesh-eating bacteria are washing ashore in Florida.
A new study revealed how this 5,000-mile wide thicket of seaweed, known as the "Great Atlantic Sargassum Belt," could become overrun with species of Vibrio bacteria and create a "perfect pathogen storm".
According to the study by the Florida Atlantic University, the deadly bacteria can cling to the surface of plastic waste which gets entwined in the large mass of seaweed and poses significant health risks to beachgoers as well as marine life.
People can become infected by Vibrio by eating raw or uncooked seafood. Further, contact with an open would could cause necrotizing fasciitis – or the "flesh-eating" bacteria infection – leading to amputation or death, according to the Center for Disease Control.
Dr Tracy Mincer, who is the corresponding lead author of the study told Newsweek: "We really want to make the public aware of these associated risks.
"In particular, caution should be exercised regarding the harvest and processing of Sargassum biomass until the risks are explored more thoroughly."
She also highlighted other concerns stemming from "leaky gut syndrome".
Dr Mincer, who is an assistant professor of biology at the university's Harbor Branch Oceanographic Institute and Harriet L. Wilkes Honors College, said: "Another interesting thing we discovered is a set of genes called 'zot' genes, which causes leaky gut syndrome.
"For instance, if a fish eats a piece of plastic and gets infected by this Vibrio, which then results in a leaky gut and diarrhea, it's going to release waste nutrients such nitrogen and phosphate that could stimulate Sargassum growth and other surrounding organisms."
According to Florida's health department, the cases of Vibrio infections in the state have more than doubled from 2021 to 2022.
However, this is reportedly an after-effect of Hurricane Ian, which made landfall on 28 September 2022.
One in five Vibrio infections turns fatal, according to the CDC.
The majority of the Sargassum seaweed floating towards the state is expected to end up on beaches in June and July.
[ad_2]

Source link