[ad_1]

The Maldives 5th Tourism Master Plan's (5MTP) vision for sustainable tourism is supported by four pillars; visitors, communities, workers, and businesses. The 5TMP is a framework that aims to position Maldives as a global leader in sustainable tourism. The master plan aims to continually develop a resilient and innovative tourism industry by identifying challenges and opportunities. To build a globally competitive sustainable tourism industry, the 5TMP priority areas include human resource development, the business environment, environment conservation, safety and security, cultural heritage, and technology.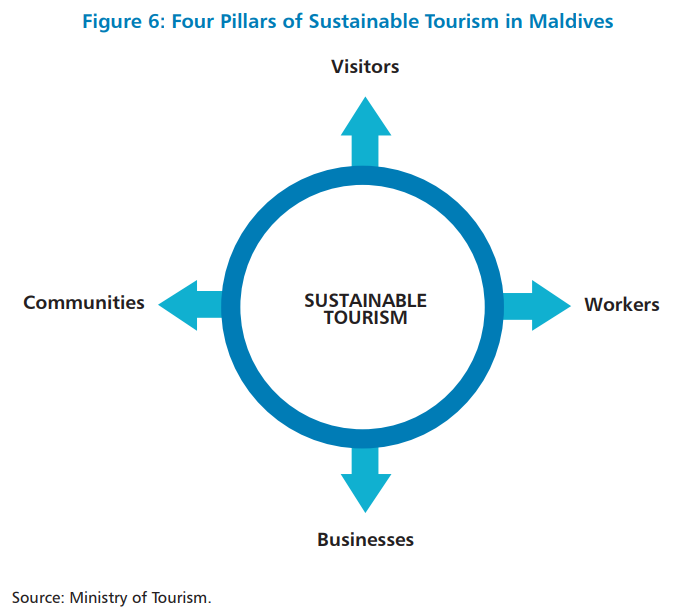 According to the 5TMP sustainable tourism will provide the following benefits to the individual pillars:
Visitors will experience the Maldives' unparalleled natural beauty (rich coral reef biodiversity and megafauna), outstanding tourism services, and innovative tourism products.
Communities will enjoy economic opportunities, social development, and convenience provided by high-quality infrastructure.
Workers will experience more employment opportunities, career growth, and skill development.
Businesses will be profitable, globally competitive, and grow through diversification
Although the 5TMP emphasizes the importance of conservation, the environment is not highlighted as a pillar of sustainable tourism. Many conceptualizations of sustainable tourism prioritize environmental conservation to the same degree as social and economic development. UNWTO conceptualizes sustainable tourism as, "tourism that takes full account of its current and future economic, social and environmental impacts, addressing the needs of visitors, the industry, the environment, and host communities."
The environment could be a fifth pillar supporting sustainable tourism with the following benefits; pristine islands, healthy reefs, biodiverse oceans and hearty marine megafauna.
Perhaps the 5TMP assumes environmental conversation is a prerequisite for upholding the four pillars. The 5TMP highlights environmental protection with goal 4, build climate resilience and protect natural assets. Environmental conservation is also clearly necessary to support the visitor's expectations of pristine islands and biodiverse marine life.
Featured image: Unsplash
[ad_2]

Source link