[ad_1]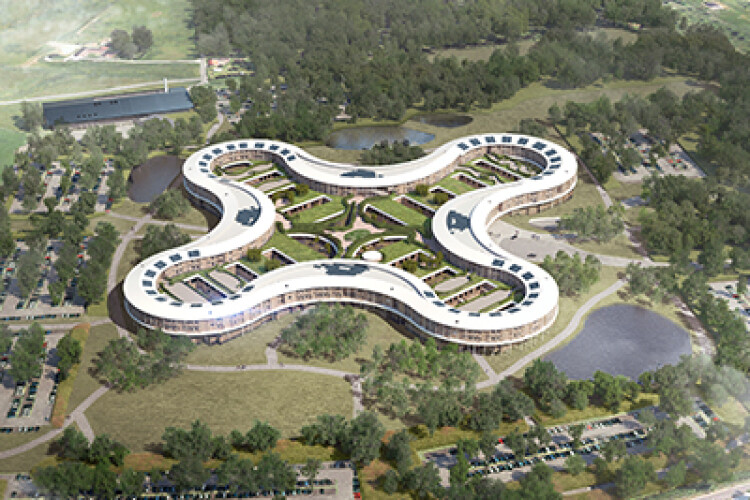 The DKK3.8bn (£440m) New Hospital Nordsjælland (NHN) in North Zealand has been designed by Swiss architect Herzog & de Meuron with Danish architect Vilhelm Lauritzen and is being built by Swedish contractor NCC.
The project, which has been under construction since 2019, is using artificial intelligence (AI) site monitoring software from Imerso, a Norwegian start-up, to improve work productivity and avoid unnecessary costs due to human error.
Imerso is a software platform that combines BIM, reality capture and AI technologies to automate construction site supervision and quality inspections with one simple workflow.
The company says its system helps construction companies to cut project risks and avoid costs with real-time monitoring of site status and work quality.
Imerso claims to be the fastest and simplest 3D scanning workflow on the market and allows as-built status to be monitored against the BIM execution plan.
By conducting routine 3D scans, the NHN construction team captures every stage of the project with highly-accurate data which the AI then analyses automatically.
The system allows virtual site-visits whereby actual progress can be analysed remotely. This can be done via any browser from any device without the need to download additional software.
Imerso says that the system allows work deviations to be detected early and progress to be tracked in real time. Potentially costly errors can be picked up and avoided before they happen.
NHN project leader Anders Kaas said: "Site supervision is mostly based on trade-specific topics with a narrow focus on predefined sample areas, traditionally based on printed drawings and tape ruler measurements.
"On a large hospital project like ours, this task is very time-consuming, with the high risk of critical items possibly being overlooked. Using Imerso to apply 3D scanning as a fast and less-biased method, both efficiency and the number of construction elements covered increased significantly".
According to Kaas, the new technology was met with initial scepticism by the site team but has since proved its value: "After seeing the results and benefits, we now get weekly requests from all parties for new areas to explore with the technology."
Imerso claims that the technology has proven to be 15 times more efficient at monitoring the site status and the quality of completed works while using less than 10% of the resourced required by traditional methods.
According to NHN it would take the team more than a year using traditional inspection methods to achieve the same number of verifications of on-site installations that a few interns have achieved in 65 days with Imerso. It estimates the cost savings to date are equivalent to 2% of the total construction budget.
"We see a growing investment into better planning tools and methods like BIM, but little going into efficient mechanisms to ensure those plans are actually carried out in reality," said Imerso founder and chief executive Frederico Valente.
"We're hugely proud of our collaboration with NHN and the results Anders and his team are achieving in this project. Their commitment to quality and dedication to continuous improvement is indisputable". 
Got a story? Email news@theconstructionindex.co.uk
[ad_2]

Source link