[ad_1]


Welcome to the world of last mile delivery. This blog has been created with a focus on the fast-paced and ever-evolving industry (the last mile) and how technology will be playing a crucial role to take it past modern-day hurdles. Now we all know (if you have been shopping a lot lately), that eCommerce and online shopping have been thriving lately. With online shopping, the demand for fast and efficient delivery has also risen. Customers prefer brands that can help them deliver goods within minutes or hours than the traditional 2-4 day deliveries.
To help combat these customer needs there have been new technologies that have been invented in the last mile delivery space. Businesses have started using last mile delivery software to automate, optimize and digitize their logistics operations. Some of the most popular trends besides using the software include the use of drones, delivery robots, electric bikes for crowdsourcing, and same-day deliveries.
So, whether you're a delivery enthusiast or just curious about the future of the last mile delivery industry, buckle up and be prepared to get the order delivered with maximum customer satisfaction!
Drones
Well to start off the list, there can't be any talk about the future of last mile delivery without mentioning drones. Even the most prominent players like Amazon and Google (Alphabet) have been experimenting with drone deliveries for several years. Though they have been approved by the governments in only a few states, it's only a matter of time before it becomes the norm. Drones have the potential to revolutionize the last mile delivery industry as it makes deliveries faster and more efficient. Plus, let's be honest, who doesn't want to see a drone deliver their package to the doorstep?
Delivery robots (Autonomous vehicles)
Another exciting trend in last mile delivery is the use of delivery robots. These autonomous vehicles can navigate sidewalks and bike lanes to get your package delivered to your address quickly and efficiently. These robots come in different shapes and sizes, from cute little robots that look like dogs to larger ones that resemble small cars. Not only are they efficient, but they're also eco-friendly since they run on electricity. Dominos has been seen getting their orders delivered using an autonomous vehicle, reducing the dependency on human intervention for pizza deliveries.
Electric bikes
As the world moves towards sustainable deliveries, we can't forget about good old-fashioned human delivery! But even that is getting an upgrade. Electric bikes are becoming popular by the day for delivery businesses as it allows drivers to zip through traffic and get the package delivered to the customer's address in a flash. Not only are they fast, but they're also eco-friendly and cost-effective, making more businesses turn to electric bikes for hassle-free deliveries.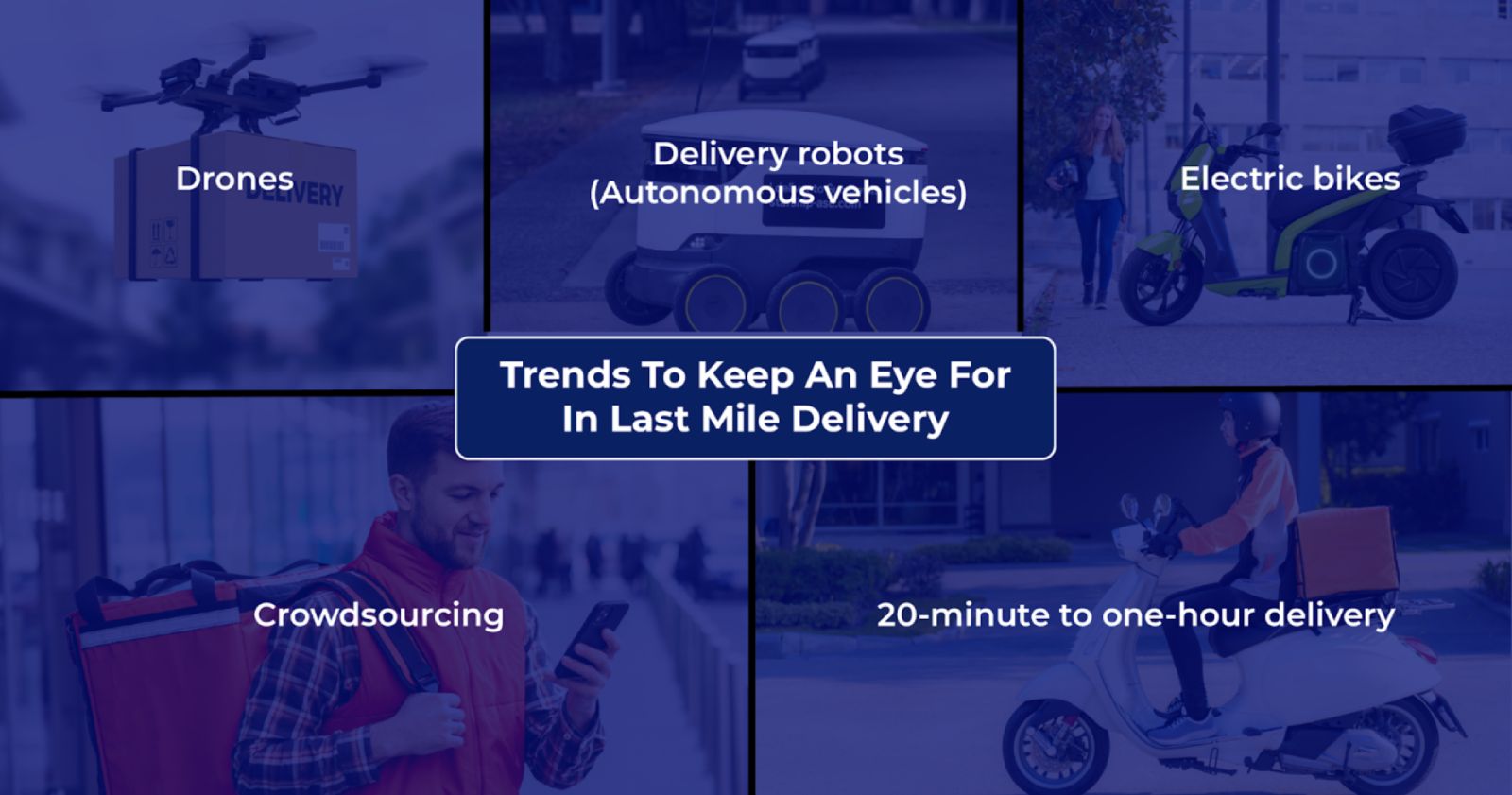 Crowdsourcing for last mile delivery
Crowdsourcing is a new trend that involves enlisting local players (carriers) to help carry out package deliveries. This is a win-win situation for both the sender and the carriers since it can be cheaper and faster than traditional delivery methods. This trend is the one to keep an eye on as it could potentially disrupt the traditional delivery model. The top 80% of brands that include the likes of McDonald's, Coca-Cola, and Dell have used crowdsourcing to get their orders delivered without much hassle.
20-minute to one-hour delivery
Lastly, we have the 20-minute to one-hour delivery, which has become increasingly popular, especially during the pandemic. People no longer wanted to wait for deliveries to get delivered after a few days, but get them within the hour of placing the order. This can be a challenge for companies (due to additional warehousing requirements), but it's also an opportunity to stand out from the competition and offer exceptional customer service.
Today, major eCommerce players have switched to building warehouses closer to the cities and in urban areas to handle fast deliveries. A study from McKinsey & Company states that millennial consumers are ready to pay a premium for same-day and guaranteed delivery.
Also Read: Key To Planning For A Last-Mile Delivery Solution
Key an eye out for these last-mile delivery trends
The future of last mile delivery, even with its numerous challenges, is looking bright and exciting. From drones to delivery robots, electric bikes to crowdsourcing, and 20-minute to one-hour delivery, the industry is constantly evolving and improving to offer customers the best delivery experience. The use of last mile delivery software will ensure smoother functioning for last mile delivery. As delivery enthusiasts, we can't wait to see what's next that might take this sector by storm! Speak with a LogiNext expert to help you with a last mile delivery software solution for delivery automation. Click on the red button below.
12



[ad_2]

Source link