[ad_1]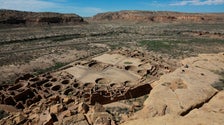 President Joe Biden's administration on Friday ordered a 20-year ban on new drilling and mining around New Mexico's Chaco Canyon, a high-desert landscape rich in Indigenous cultural sites.
The action applies to all federally managed lands within a 10-mile radius of Chaco Culture National Historical Park, but does not affect existing oil and gas leases or any mineral development on private, state or tribal lands. Biden first moved to protect the area in November 2021.
The Interior Department said the move will safeguard "irreplaceable cultural sites where Pueblo and Tribal Nations continue to honor their ancestral traditions and customs."
"Efforts to protect the Chaco landscape have been ongoing for decades, as Tribal communities have raised concerns about the impacts that new development would have on areas of deep cultural connection," Interior Secretary Deb Haaland said in statement.
"Today marks an important step in fulfilling President Biden's commitments to Indian Country by protecting Chaco Canyon, a sacred place that holds deep meaning for the Indigenous peoples whose ancestors have called this place home since time immemorial."
First established as a national monument in 1907 by President Theodore Roosevelt, Chaco Culture National Historical Park spans more than 30,000 acres of northwestern New Mexico, and it is home to some of the most significant Ancestral Puebloan cultural sites in the U.S. The landscape is sacred to Native American tribes that for years have sought more permanent protections for the surrounding area, where oil and gas development has surged in recent decades.
The park was designated a UNESCO World Heritage Site in 1987.
Environmental and public land advocates applauded Friday's decision while calling on the administration to do more to protect the Chaco landscape and halt oil and gas leasing across the federal estate.
"Today's announcement to prohibit new federal oil and gas leasing in Greater Chaco is a positive step forward," Judith Le Blanc of Native Organizers Alliance said in a statement. "Now is the time for the federal government to respond with urgency to the acceleration of threats to our sacred places from climate change and fossil fuel extraction."
On the campaign trail, Biden vowed to "take on the fossil fuel industry" and rapidly transition the nation away from planet-warming fossil fuels.
"No more subsidies for [the] fossil fuel industry," Biden said during a Democratic presidential debate in March 2020. "No more drilling on federal lands. No more drilling, including offshore. No ability for the oil industry to continue to drill, period."
To the frustration of climate and environmental advocates, his administration has since approved several major oil and gas projects, including oil giant ConocoPhillips's massive Willow project in the Alaskan Arctic, which is expected to produce up to 590 million barrels of oil over its 30-year duration.
"It's high time that Biden lives up to his promise to end the fossil fuel era, and it's critical that the entire Greater Chaco Landscape is protected," Soni Grant, New Mexico campaigner at the Center for Biological Diversity nonprofit, said in a statement Friday. "Today's decision just isn't enough to give our communities a fighting chance against the climate emergency."


[ad_2]

Source link