[ad_1]

Is your performance management program actually moving the needle on employee performance? Research shows that many organizations (more than half by some estimates) are falling short.
In a McKinsey & Company survey, 54% of respondents said performance management at their organization had not had a positive effect on performance. (If not to improve employee performance, what exactly is the point of "managing" it?) 
Today's workers need more than what many companies offer in terms of goal-setting, feedback, coaching, and career development. Keep reading for six proven best practices for developing a performance management process that gets results. 
What is employee performance management?
The most well-known (and sometimes loathed) lever of performance management is the annual performance review. For employees and their leaders, this review process establishes goals and expectations while reinforcing accountability. The problem is, many organizations define their employee management process solely by annual reviews, missing out on some key components of a well-rounded program.
Effective performance management requires more than just a look back at an employee's performance—it needs to look forward. Holistic performance management is built on clear objectives interweaved with continuous learning, two-way feedback, and growth opportunities. 
How does employee performance management help employees and the organization?
Performance management must be a two-way street (well, more like a multi-lane highway). Employees should have continuous support from their managers, peers, and the organization, while managers must receive the training and coaching they need to lead effectively. 
High performance is a team sport. Each individual and team should be accountable for achieving shared company goals that move the business forward. But people can't be expected to perform at a high level without the right tools, processes, and support from their leaders. The entire organization thrives when every employee is fully empowered to do their best work.
6 best practices for continuous performance management
Every industry and company is different, and strategic human resources leaders are in the best position to know which performance management strategies work best for their organizations. That being said, plenty of good industry research out there (15Five's included) proves the efficacy of a few tried-and-true best practices.
Swap the annual performance review for continuous feedback
In a 15Five survey, 35% of individual contributors reported they only get valuable feedback during their annual performance review. Once a year; that's it! Imagine waiting 365 days to find out if you're doing a good job or not. 
Company culture significantly impacts how often employees give, receive, and even ask for feedback. If leaders at the company's highest level prioritize real-time feedback, the rest of the organization will typically follow suit. Operationalizing the experience with process and technology also makes it possible to incorporate feedback mechanisms into daily work. 
Clearly communicate expectations and goals
You can't improve performance without measuring it, and you can't measure it without clear, time-based goals. Setting Objectives and Key Results (OKRs) can help align efforts across the organization and improve individual and team performance.
Visualizing OKRs in an easy-to-read OKR dashboard can give managers and employees more visibility into progress, wins, and roadblocks and increase personal accountability and teamwork. 
Recognize and show gratitude for good work 
According to research by Gallup, only one in three workers receives recognition or praise for doing good work. Employee recognition from peers and managers drives engagement, productivity, and higher performance.
Recognizing employees—both publicly and privately—reinforces positive behaviors and actions. Research also shows that gratitude at work can improve well-being, reduce stress, and build resilience. (At 15Five, we make recognition easy and fun with High Fives.)
Help employees discover their strengths
A strengths-based approach to performance management can yield tangible results for employee development. As Marcus Buckingham, head of people and performance research at the ADP Research Institute, writes for Harvard Business Review: 
"Although we label weaknesses 'areas of opportunity,' brain science reveals that we do not learn and grow the most in our areas of weakness. In fact, the opposite is true: we grow the most new synapses in those areas of our brain where we have the most pre-existing synapses. Our strengths, therefore, are our true areas of opportunity for growth."
By aligning their strengths with critical roles and responsibilities, employees can unlock their true potential and focus on the areas that feel the most natural and energizing to them. Help employees discover their strengths so they can thrive in their current roles and pursue new career opportunities. 
Support employees' career ambitions 
Supporting employees' personal and professional goals—even the ones unrelated to their current job—is every good manager's responsibility. Unfortunately, 48% of employees in our manager effectiveness study said they had yet to have even one conversation with their manager about their career vision.
Career planning conversations are nothing to shy away from and can actually improve employees' performance in their current roles. Give your employees the tools to create a career vision so they can uncover an exciting path forward, whether it's within your organization or not. 
Turn managers into coaches
Rather than "managing" performance, managers should be coaching it. In the McKinsey study, researchers found that when managers work to develop their employees through coaching, performance management systems are 74% more effective. In the scenarios where respondents don't see their managers as effective coaches, only 15% report more effective performance management.
What if managers don't know how to coach effectively (or at all)? Well, they can benefit from coaching too! Consider a management development program that focuses on both training and coaching and occurs in the flow of work.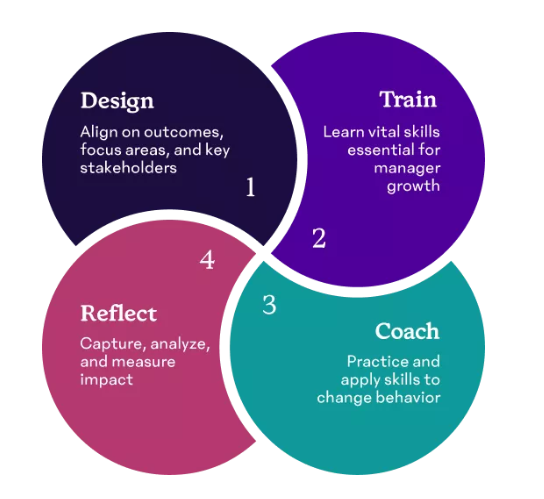 Ready to start improving performance management?
15Five Perform takes a flexible, holistic, insights-driven approach to the performance management cycle, with an easy-to-use platform that HR teams can tailor to their needs. 
Learn more >
[ad_2]

Source link